Stretch Khakis (Buy 2 Free Shipping)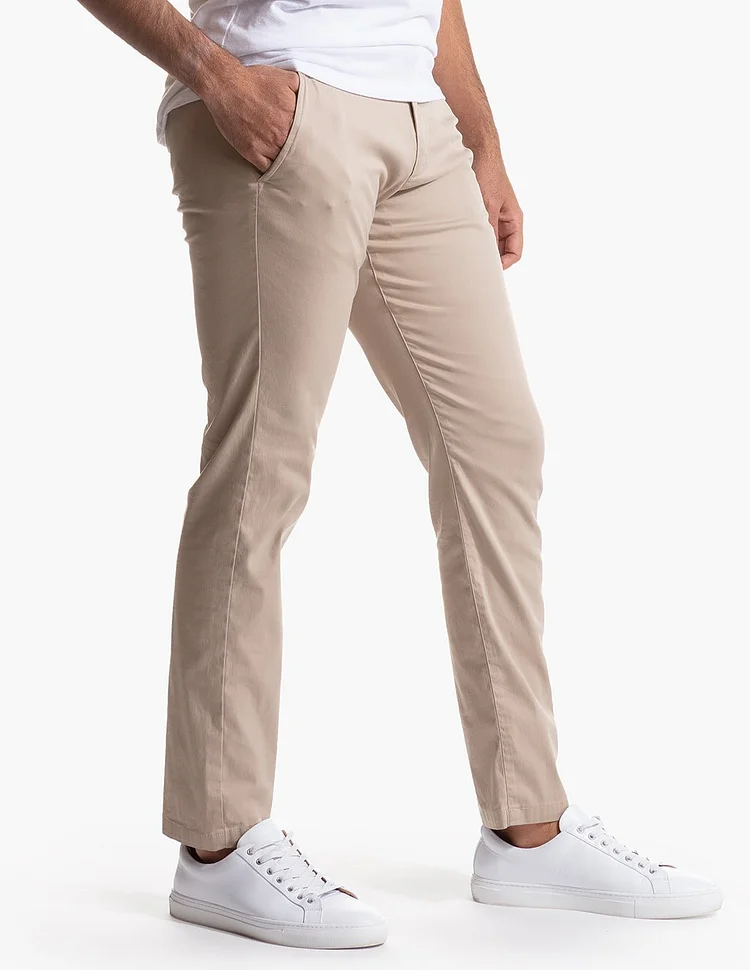 Stretch Khakis (Buy 2 Free Shipping)
Why You'll Love It?
We love these because we know how many outfits they give us, so you never worry again about packing extra. Slip them on for a last minute meeting, then cruise through airport security without losing a thing. Your legs will never know they're not wearing sweats.
Unexpected weather changes? Microfiber fabric makes sure you'll always have something dry and wrinkle-free waiting for you. If longevity is your concern, you can rest easy knowing they'll never shrink, pill, or lose their shape.
Sizing Guide
Slim Fit
Our fit is trim, not tight, in the seat. It's relatively straight hipped with with a slight taper from the mid thigh down. They fit true to size and do not require any break-in periods. The pants do not lose their shape or shrink after washing. Measurements reflect garment dimensions. All units are in inches.
Inseam / Leg Length
Measured down from the middle of the crotch to just below the ankle bone. We recommend you choose based on your height. If you're in between sizes, you'll need to cuff with the longer size. People with longer than usual legs should size up.
Stop thinking about it.
You won't regret it
Wrinkle-Free
Ironing is a waste of time. You know what else is a waste? Packing multiple pairs, just because they wrinkle.
Perfect Fit
If your calves don't match your thighs, then you know the struggle of finding slim-fit pants.
Prevents Ball Crush
It's hard to stay comfortable when you've got a tight bulge waiting to burst open.
Cheeky Upgrade
A curved-waist design wraps your mid-section for an instant and cheeky upgrade.
Dreamy fits for years to come.
Our customers used to shop through tons of confusing styles with other brands, so we designed Stretch Khakis with microfiber material that stretches but also recovers its shape. With a perfect fit that won't lose its shape, you won't have to second-guess your pants anymore.