Pulling lifting crane with digital display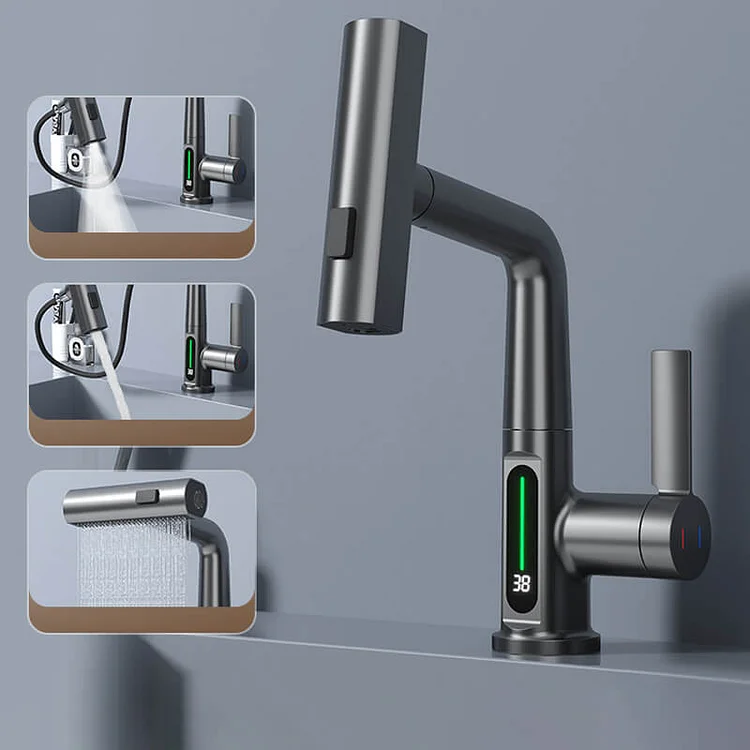 Pulling lifting crane with digital display
Temperature display function

Modern smart bathroom faucet display can automatically display the water temperature, you don't need to measure the temperature by hand, avoid hurting your hands due to high water temperature, and It is powered by water power and does not need power source or battery, more energy saving and environmental protection

Extendable faucet

Liftable and 360° rotatable, extendable length 60 cm long, makes it easier to clean the sink in all directions. simple and convenient, saves time, suitable for kitchen and bathroom and various other occasions

Five functional spray modes

This LED faucet has five outlet positions. Bubble mode: the water flow is relatively soft, suitable for hand washing, etc. 3-mode Spray mode: the water pressure is high, suitable for cleaning the sink tabletop.Fountain mode: you can use it to rinse your mouth and face, so that your hands are free.

High quality, durable material

Use high quality bacteriostatic copper, copper purity reaches bacteriostatic rate 99% with premium chrome finish, excellent corrosion resistance, continuous stability. Better protection for your health

For wash basins with 35 mm installation holes

You need to measure it beforehand to make sure the size matches, and it's easy to install, so it's good to stay beautiful.
Specification

LED lamp for kitchen faucet

Surface treatment: Brushed nickel

Material for main part: Brass

Spray head: ABS plastic

Valve: Ceramic valve

3-color mode: 0 - 86 ℉ (0-30 °) Blue light, 86 - 104 ℉ (30-40 °) Green light, 104 - 120 ℉ (40-49 °) Red light.

Extendable sprayer with dual functions: airy jet and powerful cleaning rinse

Spout design with high arch and 360 degree rotation: provides more space for a variety of activities at the sink