Cuttable Non-Stick BBQ Grill Mats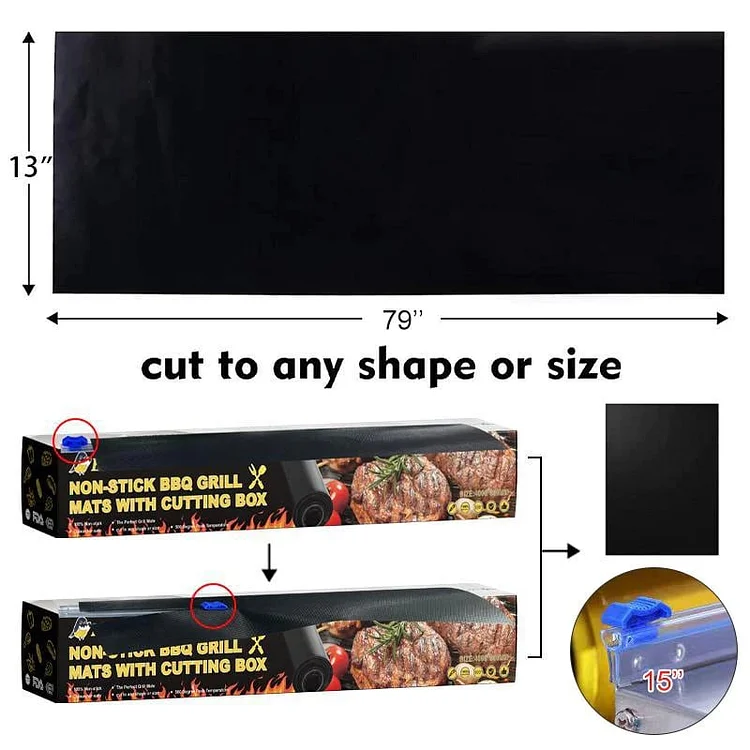 Cuttable Non-Stick BBQ Grill Mats
🔥UPDATED VERSION, BEST OFFER🔥
🔥"UPDATED VERSION, BEST DEAL"🔥
😍THE HIGHEST QUALITY GRILL MAT FOR GRILLING AND BAKING! 😎
Feature:
🍖 EXCELLENT GRILLING ASSISTANT: Are you tired of the meat falling from the grill shelf interval during grilling? It can be solved perfectly by using a BBQ mat! Grill mats not only can make all the food stay in place, but also prevent the food from coming into direct contact with the fire.
🍤 SAFE & HEALTHY BBQ PROCESS: All grill mats are made of food-grade GF material, which will not produce strange odors during the barbecue process. The surface temperature of the mat is more even, effectively preventing scorching, allows the food to retain the best taste, and enjoy the best barbecue experience.
🧀 100% NON-STICK: Our grill mat can ensure the food never stick and can prevent the grease from dripping, reducing the time required to clean. It is recommended to use it below 500°F. It may cause deformation of the grill mat when exceeds 500°F.
🍕 REUSABLE & DISHWASHER SAFED: Made of GF material with heat resistance, corrosion resistance, and good toughness, it can be used multiple times. It can be cleaned easily with water and detergent, or it can be cleaned in the dishwasher.
🧇 FREELY CUT & MULTI-PURPOSE: 13×158 in, 0.0079in thick, with cutting box,can be cut freely according to the size of the grill. Suitable for various grills, such as gas grill, charcoal grill, electric grill. It also can be used as a baking mat. If you place it in an oven, please make sure the temperature under 500°F.

Specification:

Temperature: Under 500°F
Material: Food-grade GF material

Color: Black
Size: 13"x79"/ 13"x158"

Package includes:

[Updated version] 1 roll(13"x158") cutting strip 15''/1 roll(13"x79")+cutting strip 15''/ [Standard version] 2 pieces (33 * 40 cm per piece)