Dark Spot Correcting Cream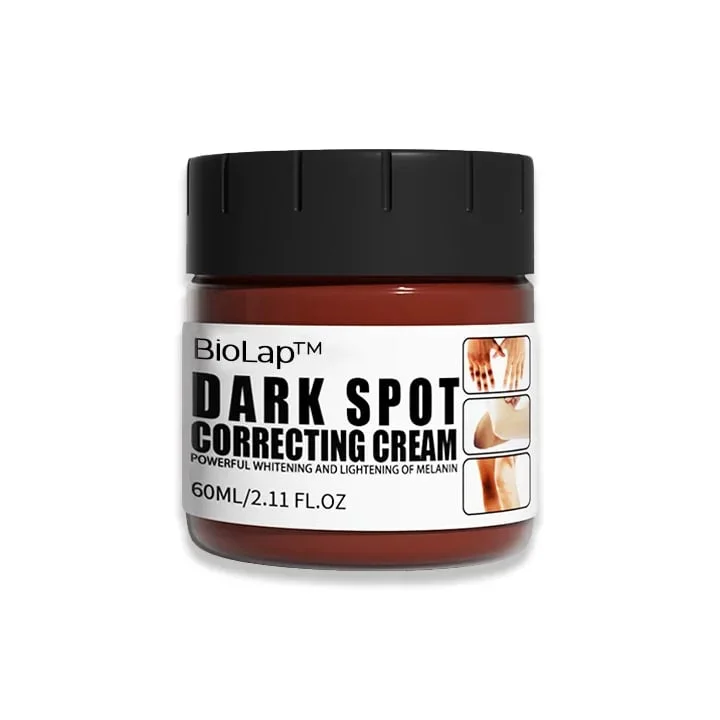 Dark Spot Correcting Cream

Banish dark spots and uneven skin tone with the  Dark Spot Correcting Cream! Packed with natural skin brighteners, erases dark spots and uneven skin tone effectively.
Before we go over our products, let's take a look at our satisfied customers.
Tia Ward, UK
"I've always been hesitant to wear sleeveless tops or dresses because of the dark and rough skin on my underarms. But after using the  Dark Spot Correcting Cream for a few weeks, I can finally feel confident enough to show off my arms. The cream has visibly lightened the dark spots and has also made my skin smoother and softer. I love that it's non-greasy and easy to apply. I would definitely recommend this product to anyone looking for an effective solution to their dark underarms."
-
Lucy Santos, AU
"I've been using the Dark Spot Correcting Cream for about 3 weeks now, and I can see a significant improvement in my dark neck. I've always been self-conscious about it, but this cream has really lightened the area and evened out my skin tone. It's easy to apply and absorbs quickly without leaving any greasy residue. I highly recommend this cream to anyone struggling with dark spots on their neck or anywhere else on their body."
- 
Layla Edwards, USA
"The Dark Spot Correcting Cream works on my dark elbow and knees! It really evens out my skin tone. Although the lightening is gradual, I'm glad that I can visibly see the effect. I have only been using it for 2 weeks and I can already see results. Will definitely buy more and keep a jar of this in my drawer."
-
Elbows, knees, bikini line, and other areas of the body can be prone to discoloration due to factors like friction, sun exposure, and dryness. To even out those discolored areas, you'll need a potent formula with a blend of skin-lightening actives and natural ingredients that target dark spots and uneven skin tone.
Dark Spot Correcting Cream's lightweight, non-greasy formula allows for deep-skin fast penetration, making it easy to use. Its powerful brightening ingredients work together to inhibit the production of melanin, the pigment responsible for giving color to the skin, resulting in a more even and radiant complexion.
Naturally-derived arbutin is known as a skin whitening agent that targets dark spots, hyperpigmentation, and scars. Arbutin blocks tyronase, a group of enzymes that plays a crucial role in the production of melanin. This, in turn, makes your skin several shades lighter and helps fade dark spots and discoloration.
The Dark Spot Correcting Cream also contains nicotinamide or niacinamide, which aids in reducing brown spots and other pigmentation issues by preventing the transfer of melanin to skin cells. Over time and with continued use, this water-soluble vitamin brightens your complexion and makes it more even toned and luminous.
-
The Key Ingredients of Dark Spot Correcting Cream
Arbutin is a natural extract found in some plants that helps to brighten and even out skin tone by inhibiting the production of melanin. Melanin is the pigment responsible for giving color to our skin, and overproduction of melanin can lead to dark spots and uneven skin tone. Arbutin is a safe and effective alternative to other skin lightening agents, and can help reduce the appearance of hyperpigmentation and promote a more even complexion.
Bisabolol is a natural skin lightening agent derived from chamomile that reduces the appearance of dark spots, hyperpigmentation, and uneven skin tone. It has anti-inflammatory properties that help soothe and calm irritated skin, making it an excellent ingredient for those with sensitive skin.
Nicotinamide, also known as niacinamide, is a form of vitamin B3. It helps regulate the production of melanin, which reduces dark spots and improves skin tone. Nicotinamide also strengthens the skin barrier to prevent moisture loss, resulting in hydrated and plump skin. Its anti-inflammatory properties further reduce redness and irritation.
-
Product Features:
Provides a natural and gentle bleaching solution for the skin all over your body, including elbows, knees, legs, arms, armpits, bikini area, etc.
Whitens and protects the skin against free radicals using a blend of plant extracts and active ingredients
Comes in a lightweight, non-greasy, and quick-absorbing formula that penetrates deeply into the skin, letting it reap all the brightening benefits
Reduces dullness, dark spots, melasma, and discoloration problems, leaving you with a healthy glow and even skin tone
Naturally exfoliates and softens textured or rough skin
Replenishes moisture and hydration into the skin
Brightens skin several shades lighter without causing irritation, redness, and dryness
-
"Niacinamide and arbutin are both gentle yet super-effective skin lighteners. And together with Bisabolol and other hydrating plant extracts, the Dark Spot Correcting Cream makes an excellent alternative to other harsh whitening products that can potentially irritate your skin."  - Zara Wilson, a Portland, Oregon-based, licensed esthetician
-
Naomi Chapman shares her one-month experience with the  Dark Spot Correcting Cream.
Week 1:
I started using Dark Spot Correcting Cream for my back as I was really unhappy with the dark spots and uneven skin tone in that area. The cream was easy to apply and absorbed quickly into my skin. The dark spots were definitely starting to fade and the texture of my skin was becoming smoother.
Week 2:
By the end of the third week, I was amazed by the results! The dark spots on my back were significantly lighter and my skin looked much more even.
Week 4:
After 4 week try, I can say for sure even my sensitive skin didn't react negatively to this whitening cream, and that wasn't always the case with most whitening products. Many of them were really harsh and made my skin itchy. This one didn't. It's an amazing, all-in-one product that really lightens dark spots while keeping my skin smooth, hydrated, and calm!
This has become a staple for me. I feel much more confident and comfortable wearing backless outfits now. I'm so happy that I found BioLap™ Dark Spot Correcting Cream, it really works wonders for my skin!
-
Product Specifications:
Unit weight: 60g
Shelf life: 3 years
Core ingredients: Arbutin, Bisabolol, Nicotinamide, Glycerin, Allantoin
Package includes:
1 x Dark Spot Correcting Cream